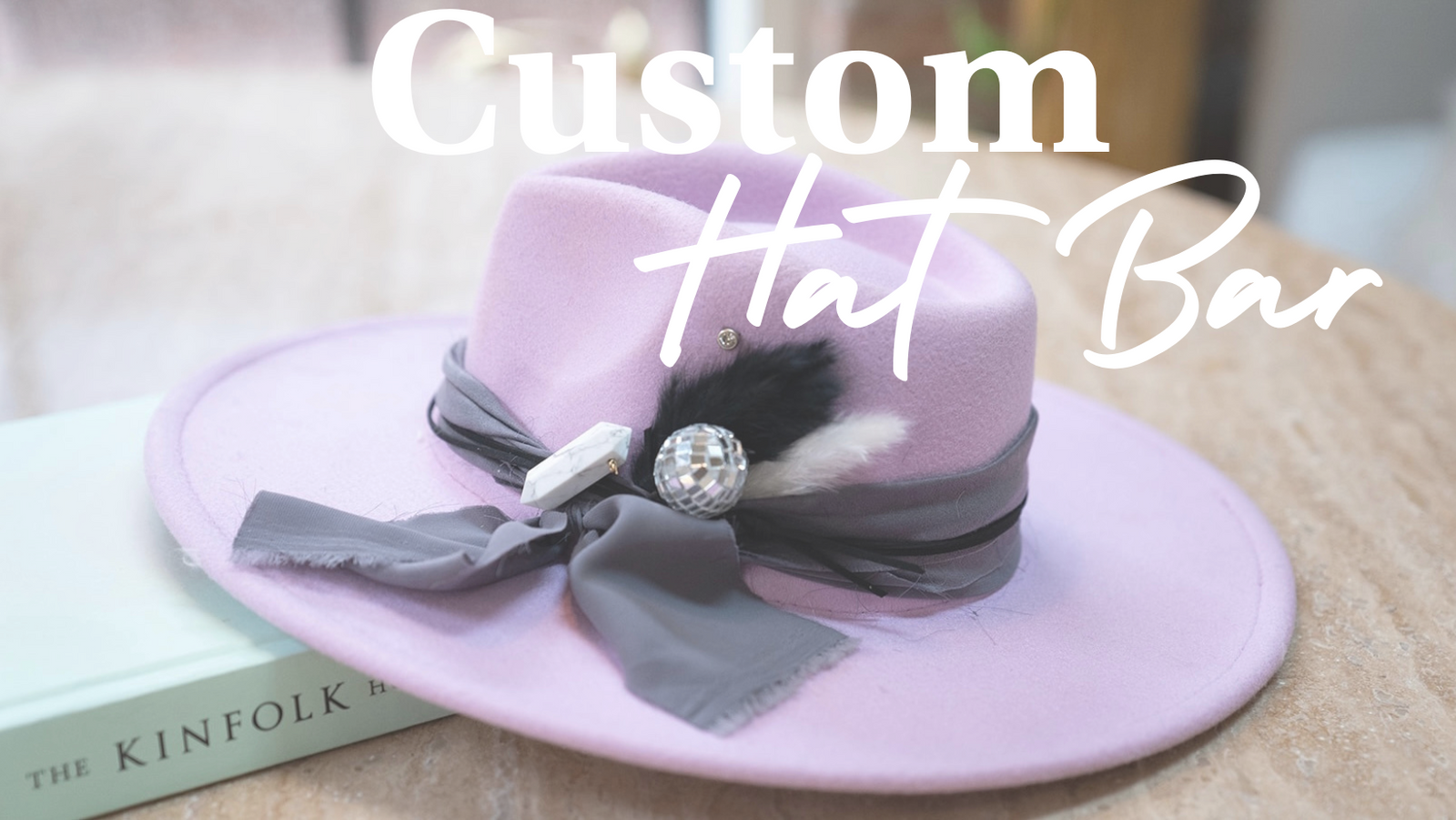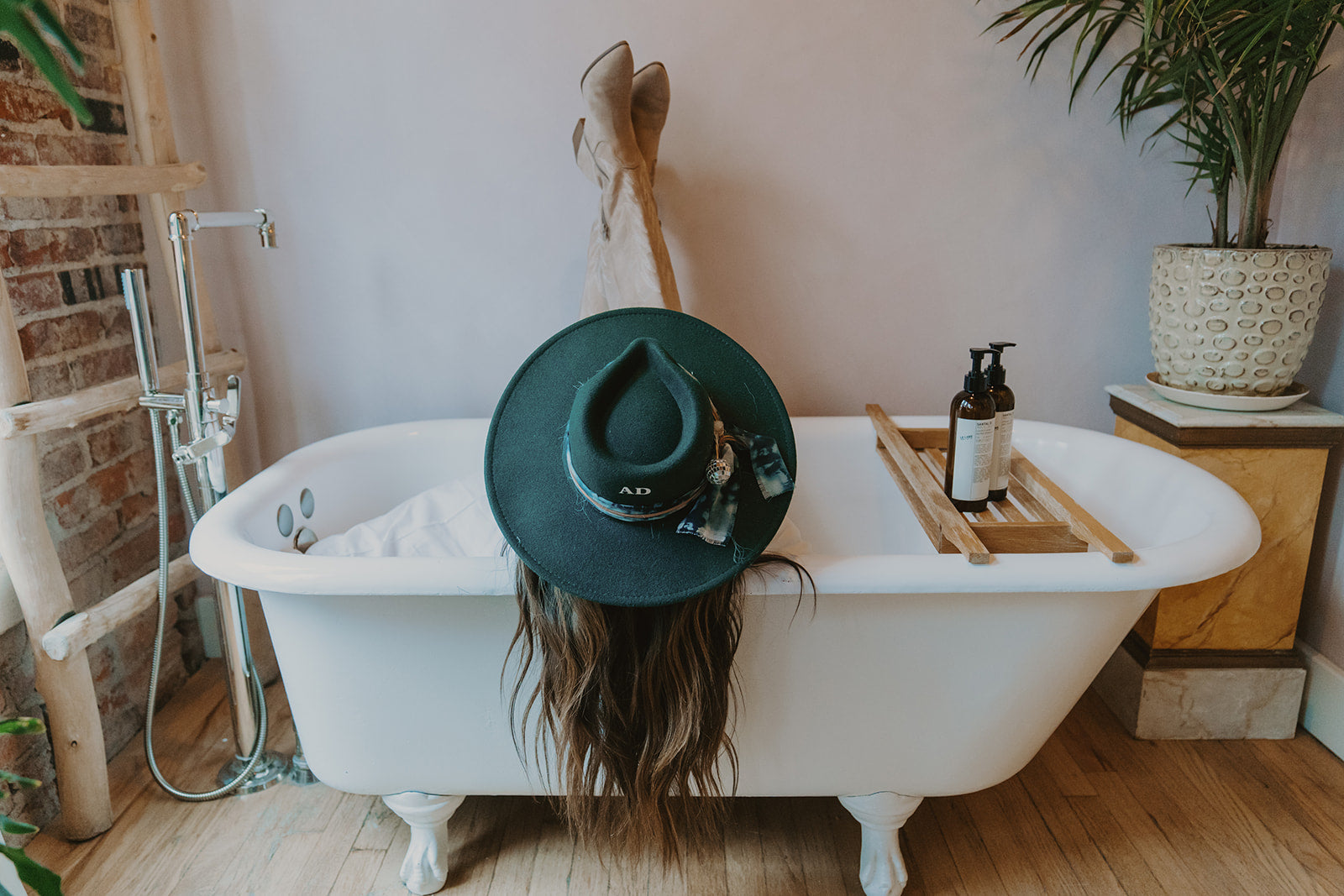 Kansas City's FIRST Custom Hat Bar
Bringing the Texas & Nashville vibes to the Midwest, The Babe Standard has everything you need to create the custom hat of your dreams. Located less than 10 minutes from downtown Kansas City visit our shop at the Iron District to create your own custom hat.
Not sure how this all works? Keep scrolling babe!
Step 1- Pick Your Hat
Select from more than 14 different colors, 2 different shapes. Our hats all feature adjustable interiors so we can get you the perfect sizing as well. Our vegan felt hats are an affordable answer to your dream hat
SHOP HATS NOW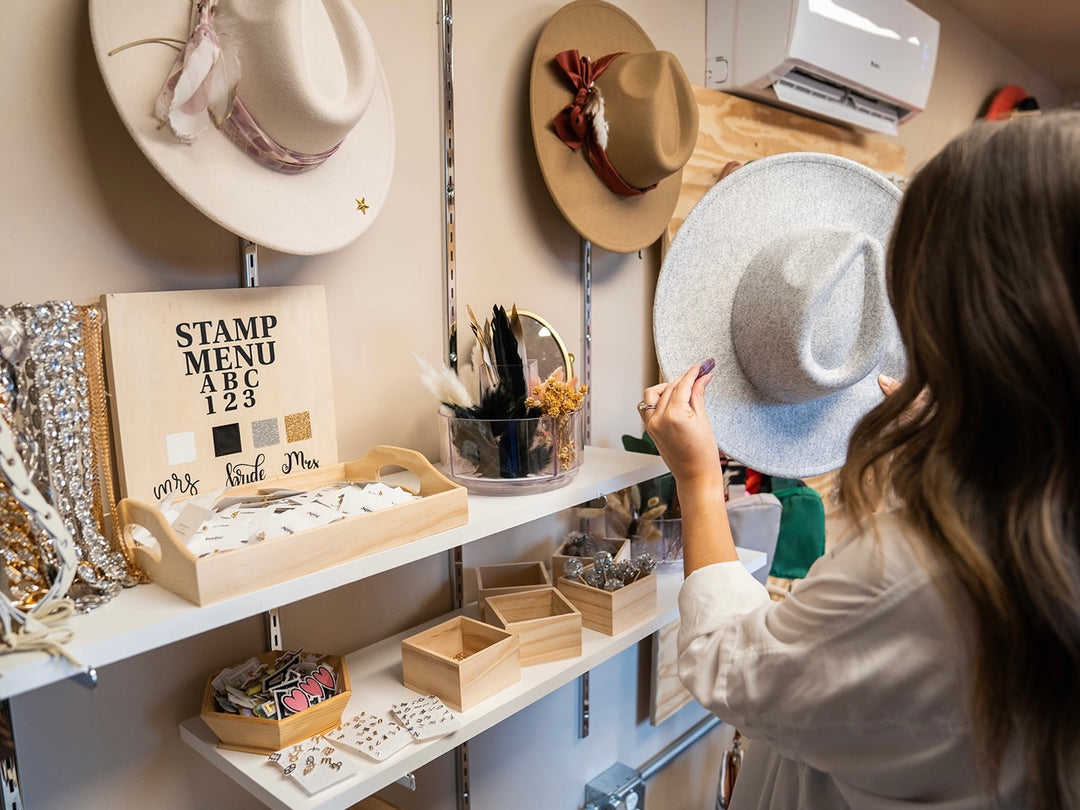 Step 2- Select a Band & Extras
With over 15 unique add ons ranging from scarves to chains, from florals to feathers, pins to patches, Mini disco balls to pearl pins…. The hardest part will be narrowing down. Don't worry, our team of expert Babes are here to help!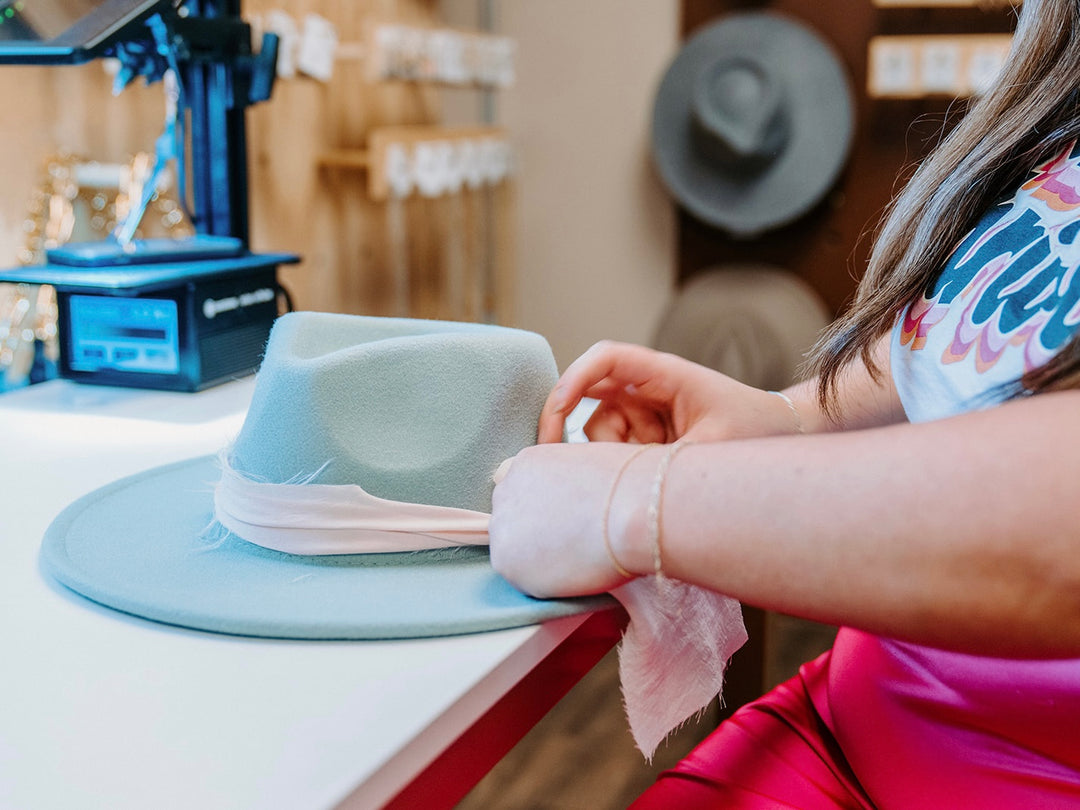 Step 3- Watch as Our Babes Make Your Dream Hat Come True
Our team of expert Babes will do all the heavy lifting for you! Watch as we assemble the hat of your dreams. We will ask questions and then finally, size the hat to your head for the perfect fit!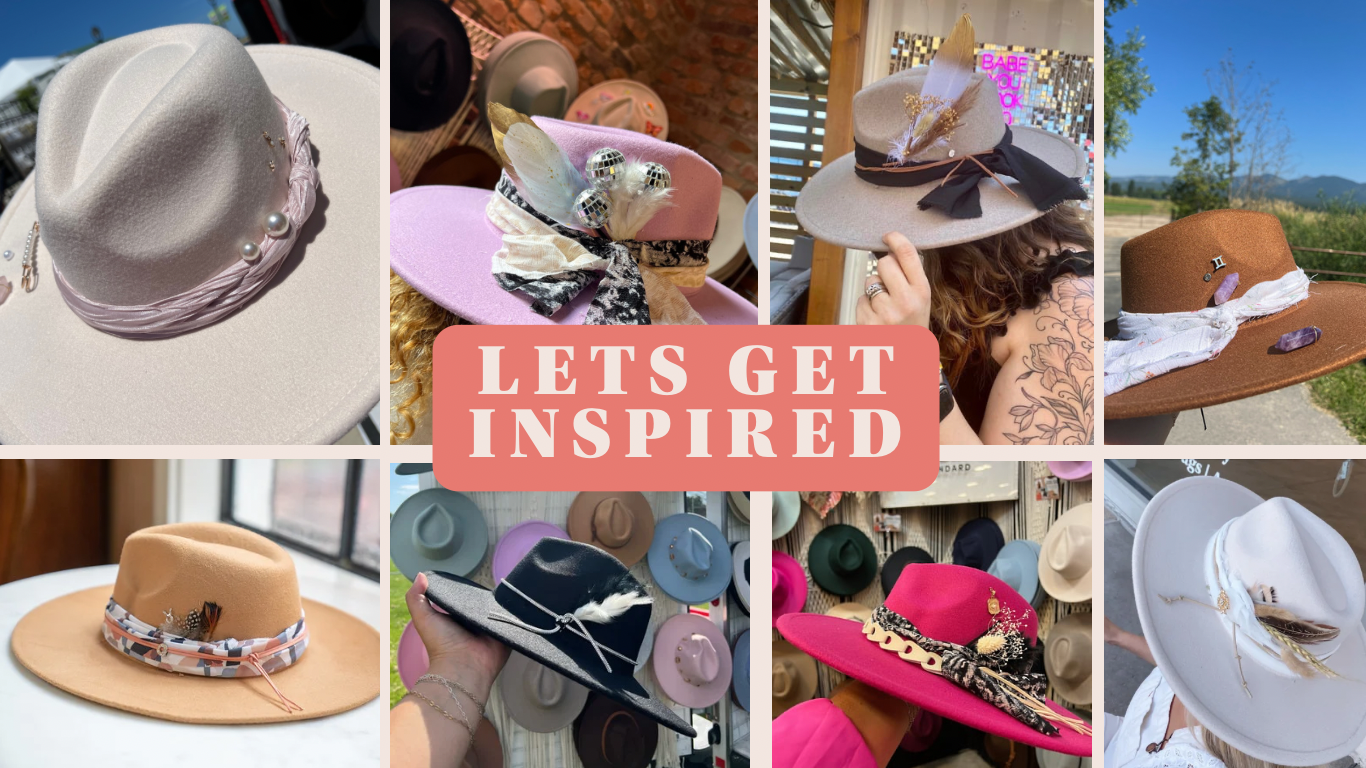 Learn more about our hat bar experience below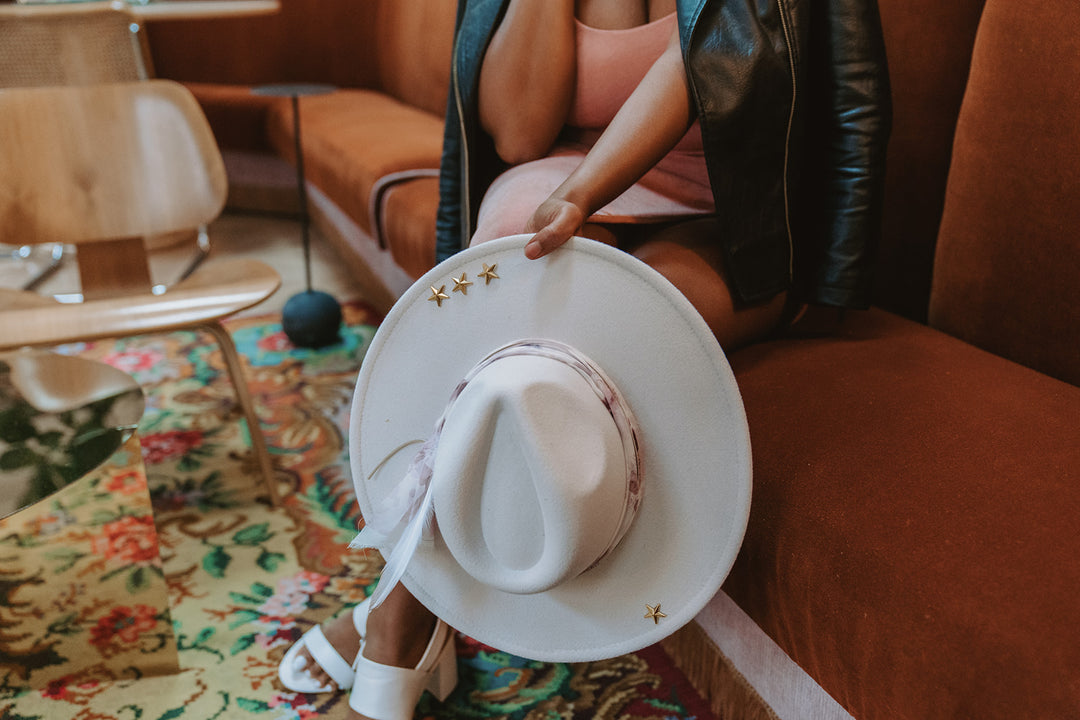 Imagine a little slice of heaven for the hat girl in your life…. OK kidding. Our hat bar is a space in our shop dedicated to creating a custom hat. Like build-a-bear for the hat girls (&guys). You'll select a hat, band, any other extras and make a hat that feels like you.
You're in luck. There are! Just... not from us. Our Iron District location in North Kansas City features multiple bar options, plenty of food options and other retailers to visit before/after you make the hat of your dreams. Grab a marg && come on in!
Our base hats start at $40 for straw, and $44.90 for our vegan felt hats. Or, you can bring your own hat for a $25 styling fee. The add ons from the hat bar are each individually priced between $2-25. The average custom hat fully decorated is around $75-100, depending on how extra you're feeling. This is your chance to be as extra as your heart && your pocketbook will allow. Or keep it simple! The choice is yours. 
Our selection of extras are constantly changing. But a few things you can count on are scarves, sewn or leather bands, suede wrap or hat chains, dried florals, feathers, pins or dainty charms, raw crystals & even mini disco balls.
Our standard vegan felt hats are a combination of cotton and polyester making them much more affordable than traditional wool hats.
Since we focus on vegan felt hats, our hats can not be burned or branded. We offer a stamping service as an alternative! It's a great way to add your own special touch. 
Our hats come in one size! The largest size dimensions will be in each hat's product description. If this is too large for you, we can help you adjust the size down. To size our hats simply pull the two strings at the back of the hat. Put it on your head, about half an inch above where you will wear it and remove the hat and tie the strings for that size. Make sure to always tie it like you tie your shoe laces and not knot it! This is a great starting point. You can adjust the hat from there.
Our hats are unisex!
While majority of our customers are female (hence our 'hat girl' love up in here… we also sell a lot of our wide brims to men as well!
Bring it in! Let's make it even better. We're happy to customize a hat you already have for a $25 styling fee. This fee covers the service of helping you to assemble the hat of your dreams. You are also welcome to purchase individual elements and take home to assemble on your own. If your hat is from The Babe Standard no BYOH fee applies! 
Yes! We try to avoid gluing or attaching anything to your hat too permanently so that you'll be able to update your hat seasonally if you wish! Some elements like pins or crystals require piercing the hat and can not be removed, nor can stamps. 
No! You're welcome to stop by during our open shop hours. However, if you want to ensure you're the primary focus during your hat bar experience we do recommend that you set an appointment. You can use the calendar below to set that appointment. We do take a $30 non-refundable non-transferable deposit. Appointments will take priority over walk-in customers.
Heck yes girl! Let's do this. Your place or ours? But really, our location makes the perfect girl's adventure. We LOVE parties! In town for a bachelorette party? Headed to Nashville or Austin? Make your custom hat in Kansas City before your trip! If you want to host your party, or reserve for a large group use the contact form below to get in touch with us to schedule that!
Use the form below to contact us directly, or shoot us a DM on Instagram. We will do our best to accommodate your request during our shop hours. These appointments typically happen on Thursdays or Fridays during the day.
Giiiiiiirl! I promise that you do not look silly in a hat! We sell thousands of hats each year to girls making the transition to being a hat girl! I would say that 80% of girls buying their first hat feel like she looks silly. Hat girl status is an attitude! You can rock it! 
The only thing stopping you from being a hat girl is buying the hat! 
Anywhere && everywhere! You can wear it to brunch, to dinner, to a winery, or just to Target to wander the aisles with your cup of coffee. A good hat will immediately elevate any outfit! Instant cool girl status. 
Once we customize your hat she's all yours. All sales are final on hat bar purchases.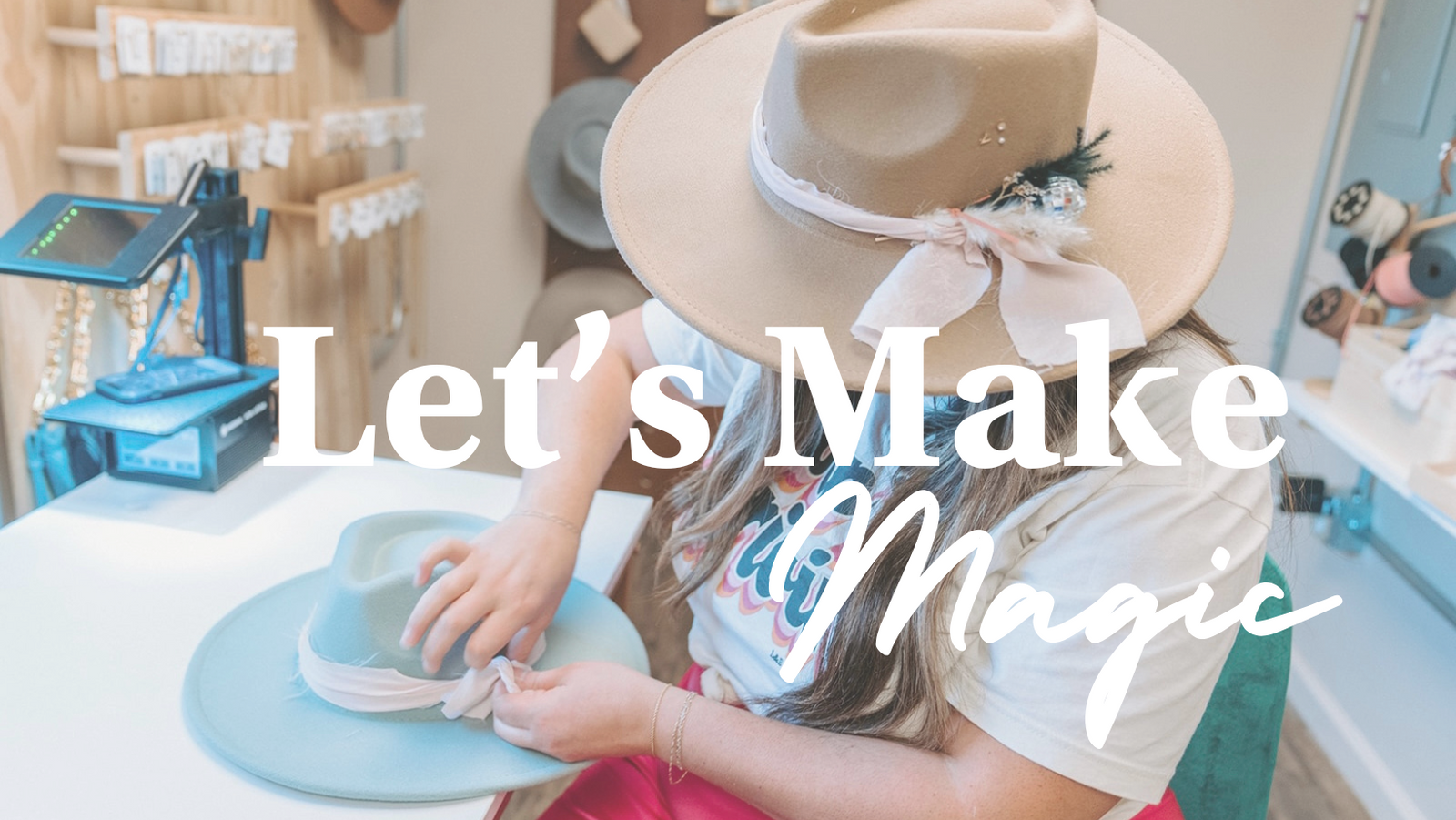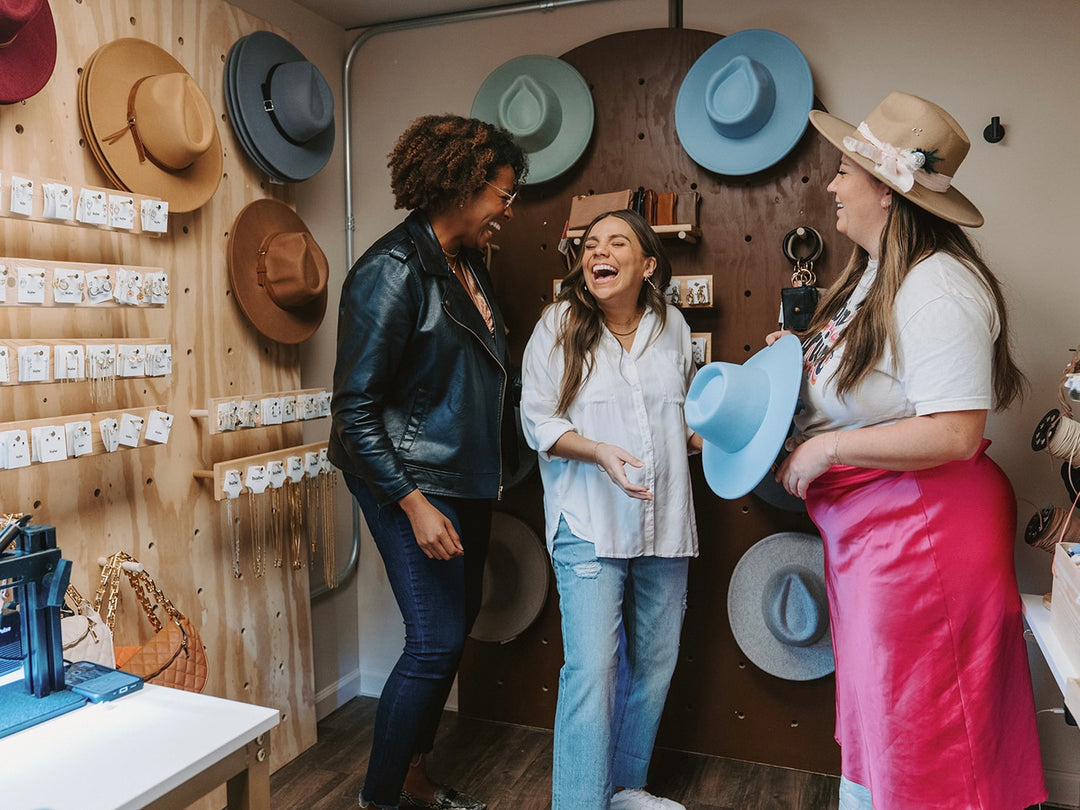 Still have questions? Want to book a large party?
Use the form below to contact us directly, or shoot us a DM on Instagram.