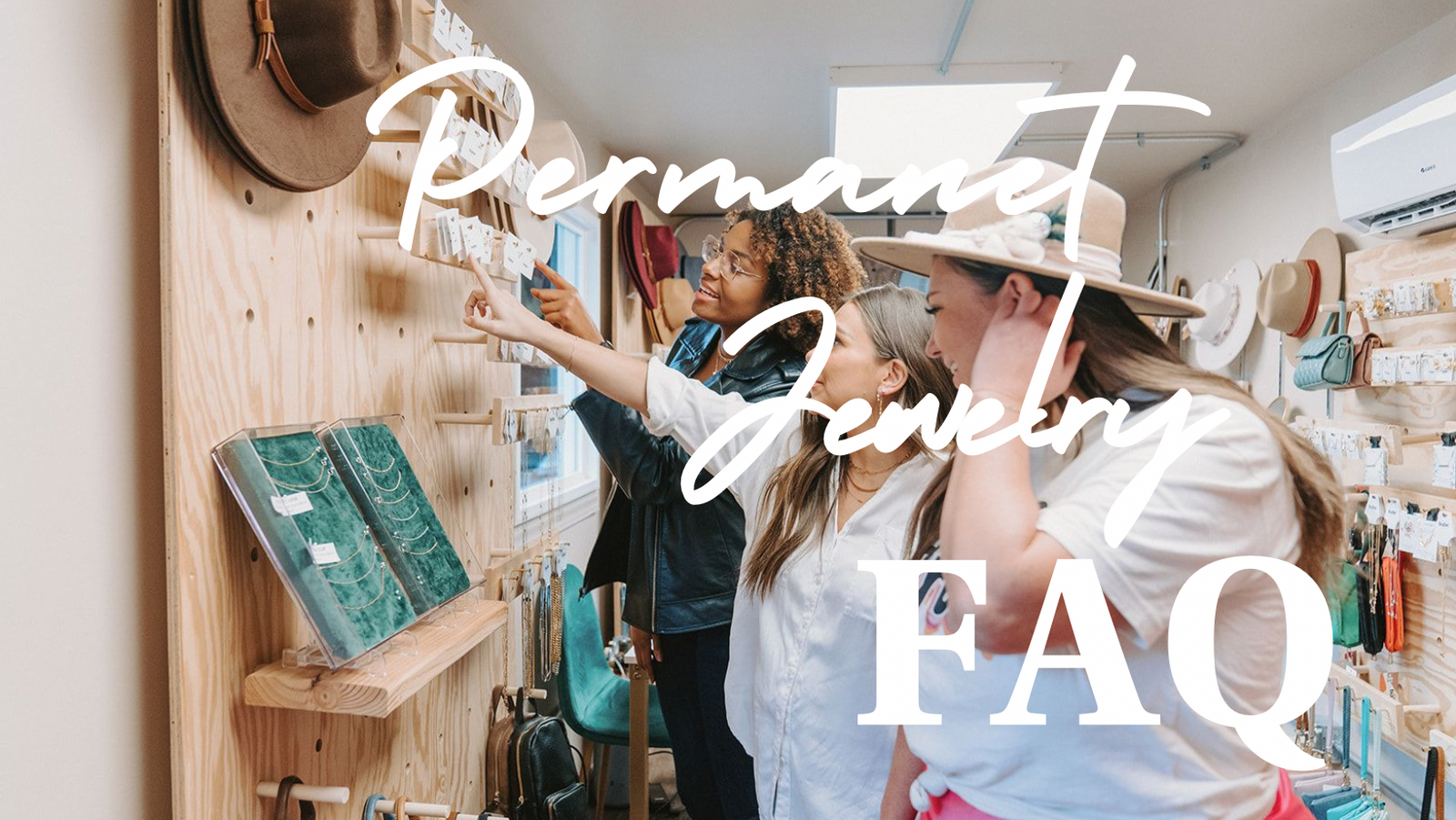 Imagine the most perfectly fit piece of jewelry, without a clasp. That is permanent jewelry.
Our team will consult with you to design a piece that is perfect for you. We will cut the chain/s to size, do any design welding then we use a specialized welder to close the piece in place on your wrist, ankle or around your neck. The welder produces only the tiniest spark but closes the link on your new piece giving you a seamless, claspless look. 
Our company was founded in 2018 & we are celebrating 5 years in business this year! We launched permanent jewelry as part of our business in January of 2022. We are one of the original permanent jewelry service providers in Kansas City. We have been around, and will continue to stay in business for a long time! You can put your trust in us. 
Our bracelets start at $60 & go up to $250 for our super unique specialty & statement chains but the average is between $75-100. We have a variety of charms you can add or we can do a mixed chain permanent bracelet. The best place to see current offerings is on our social media. Please note offerings are all first come first serve and may not restock.
Our shop is located in North Kansas City, MO at the Iron District. If you find yourself looking up Permanent Jewelry Near Me you can visit our location page for more information about our super cool shop. Our address is 1599 Iron St and we are in the white container in the courtyard! Just look for our disco ball photo wall!! Make sure to snap a pic after your appointment & tag us on social!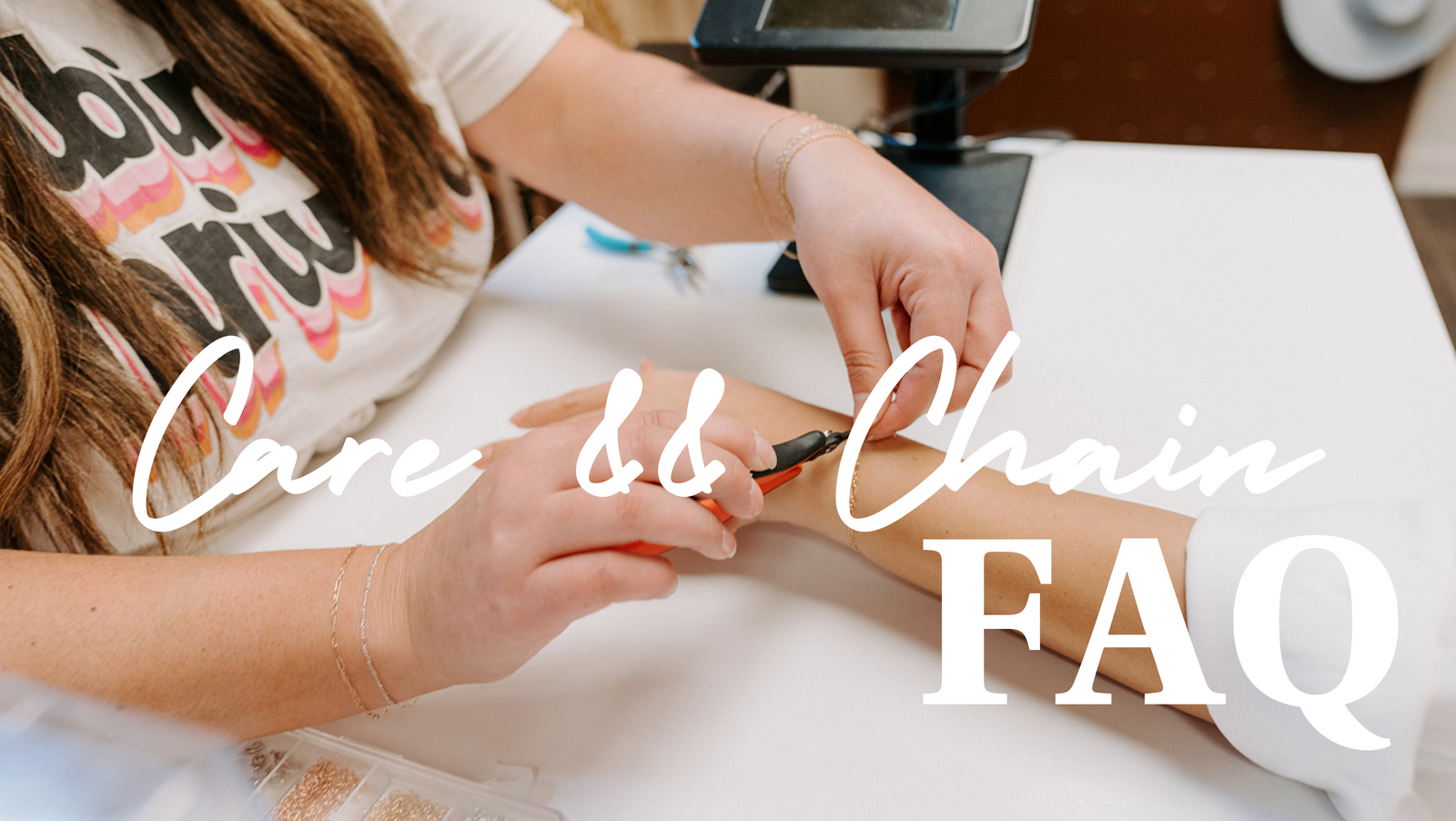 Majority of our chains are gold filled meaning they are 1:20 ratio gold with a high quality jewelers brass core that has been heat bonded. Silver chains are a S925 Sterling Silver. This means you're good to live your life in these chains! We expect these chains to last approximately 3+ years, although some will need to replace their jewelry sooner.  We also have more affordable options in an ion plated Stainless Steel. These are a gold plated chain over stainless steel. The bonding of gold & steel happens at the molecular level so the water resistance and hypoallergenic qualities are still there. We expect these chains to last approximately 2-3 years. 
With proper care, these chains should not turn or tarnish rapidly — Please be sure to keep all chemicals off the chain. If you use any kind of oil or lotion, spray tan, or apply chemicals like bug spray or sunscreen be sure to rinse the chain off with a little water after applying. The best care instruction is to wash the chain off every time you wash your hands! This will help protect the gold plating on the chain. Some lifestyle aspects such as a high acidity in the skin or products, sulfur (often found in water sources) or even just our own PH can cause the gold to wear away more rapidly. The Babe Standard can not be held responsible in those circumstances. If you have to get your wedding ring dipped every few years, your gold bracelet likely will only last a few months — select sterling silver, or we can add a clasp so you can wear it only on special occasions
We have 2 core chain styles our dainty link & Paperclip chain. In addition to those, our founder, Ashley travels extensively to find some unique & fun options. The fashion chain options will vary, but at the moment we have 10 chains to choose from. We also buy from our factory that makes our ready to wear stainless chains for some exclusive stainless steel chains you won't see anywhere else. 
All of our chains are a 20 gauge wire or less. For safety reasons we do not use chains larger than this. Under pressure these chains are designed to break so that they do not cause harm to you. If your dog/child etc pulls on it, it may come off. Do not worry we can repair it. (See the repairs section)
A FEW OF FAV CHAINS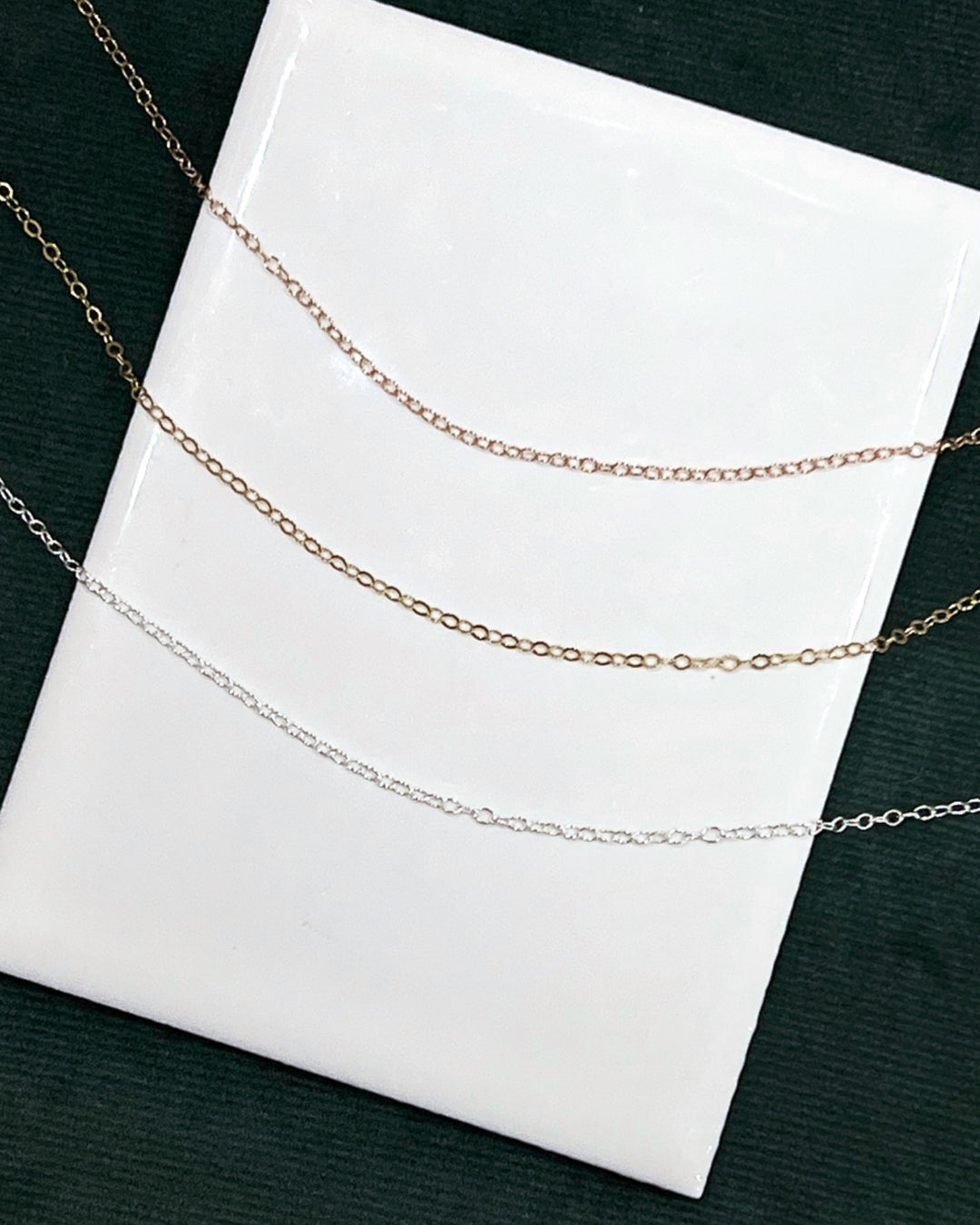 DAINTY LINK CHAIN
OUR STAPLE DAINTY CHAIN
This is the perfect chain for adding to a stack. It's our thinnest and sparkles like no other! Add a connector or charm to make it your own.
BRACELET - $75
ANKLET - $100
NECKLACES - $150+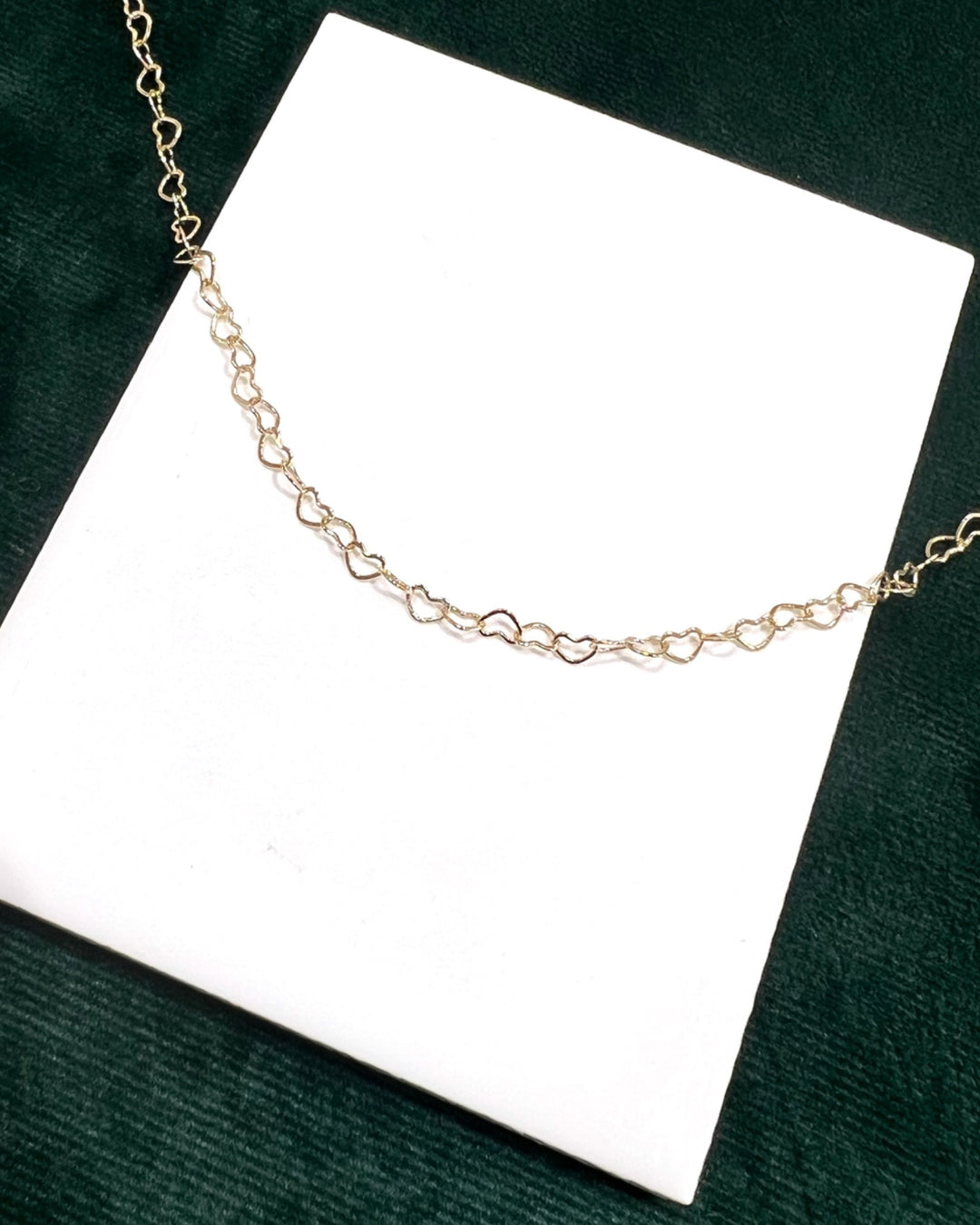 DAINTY HEARTS
OUR TOP SELLING FASHION CHAIN 
🤍now available in silver🤍
One of our favorite fashion chains is the dainty heart chain. The unique texture this chain adds to a stack is 10/10! 
BRACELET - $100
ANKLET - $125
NECKLACE - $200+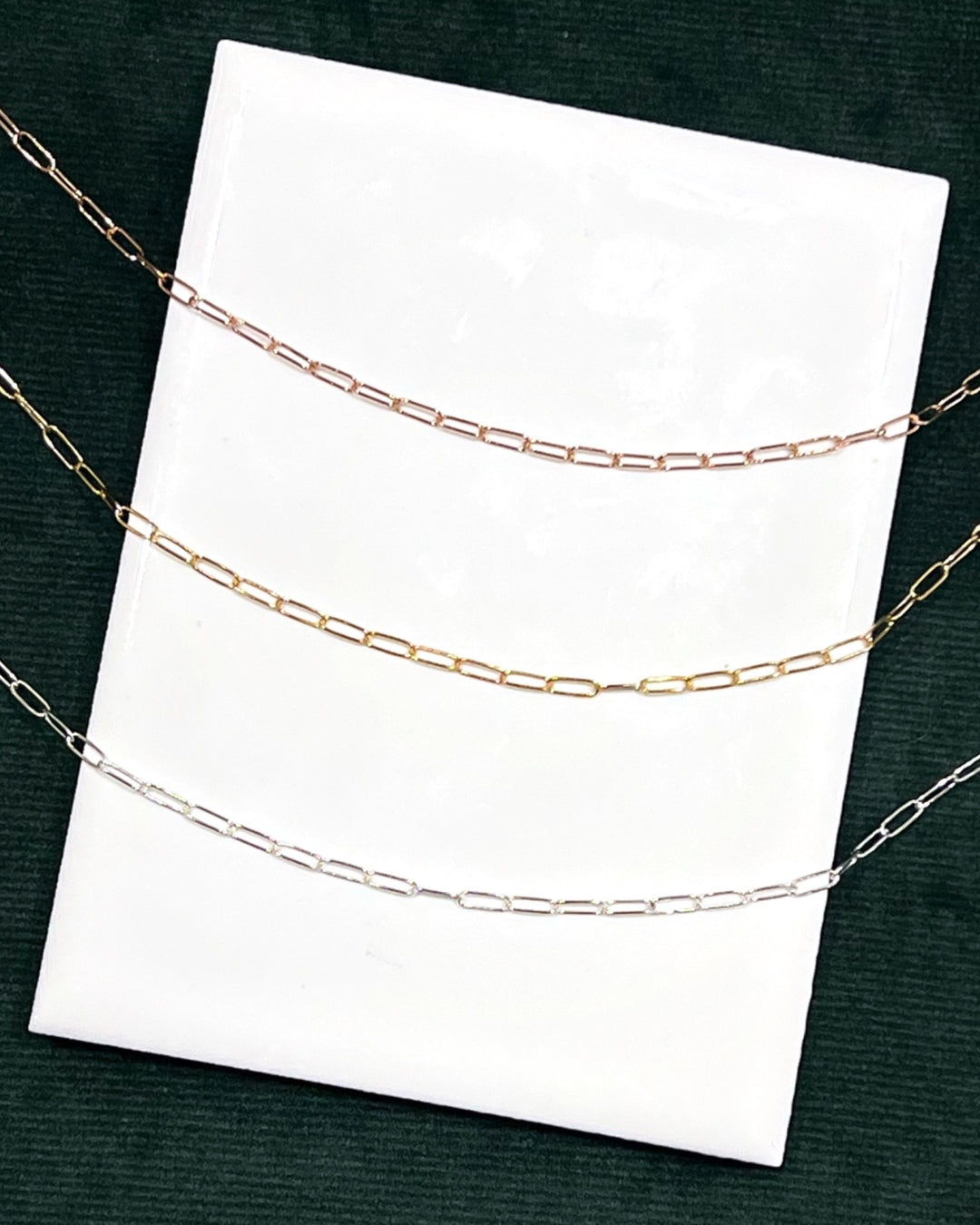 PAPERCLIP
OUR ULTIMATE TOP SELLER
This chain gives all the vibes. It's perfect on its one, or is the perfect addition to a stack! 
BRACELET - $120
ANKLET - $150
NECKLACE - $240+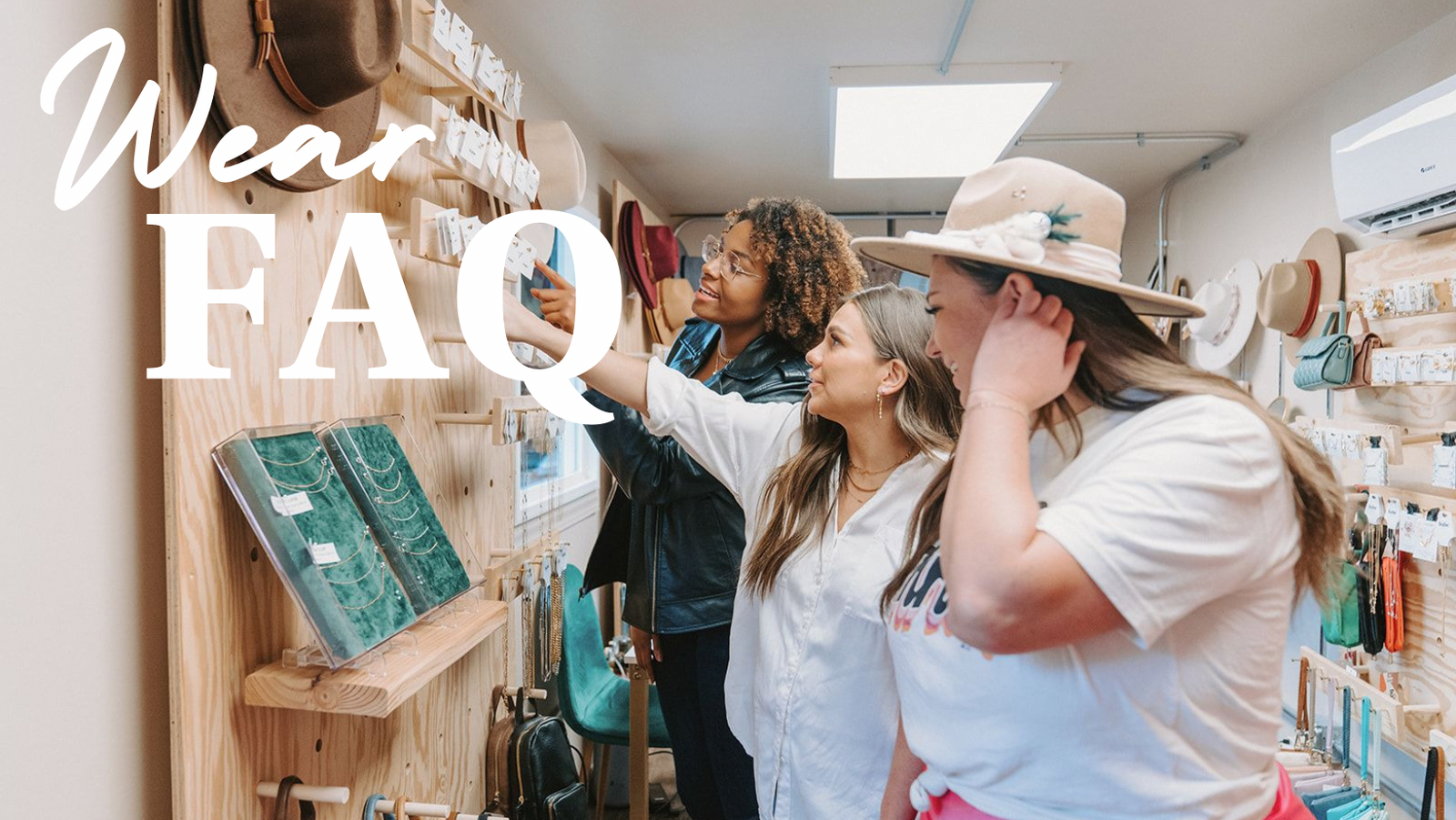 We like to say they're as permanent as your toxic ex-boyfriend! On there until you break it off or cut it off!
While the industry & social media term is permanent jewelry we like to call them welded jewelry! Nothing in life is permanent! We do the best we can to provide you a secure and high quality piece, but jewelry is inherently delicate! I have seen customers who have had permanent jewelry pieces last for 3 years, & others who need to replace their piece every few months.  
While we do our best to provide you with a secure and high quality piece, the jewelry is designed to break under pressure. All of our chains are tested in house and will break with 10lbs of pressure or less. This is for your safety. If you find your bracelet is breaking frequently, permanent jewelry may not be suitable for your lifestyle. We will be happy to add a clasp so that you can still wear your custom fit high quality jewelry. If your permanent bracelet (or necklace, anklet etc) breaks along the chain a second jump ring will be added. 
Yes! Everyone uses different words to describe the process, but we tend to stick to the most common & popular of Permanent Jewelry. Our welded bracelets are custom fit and then the chain is welded back together.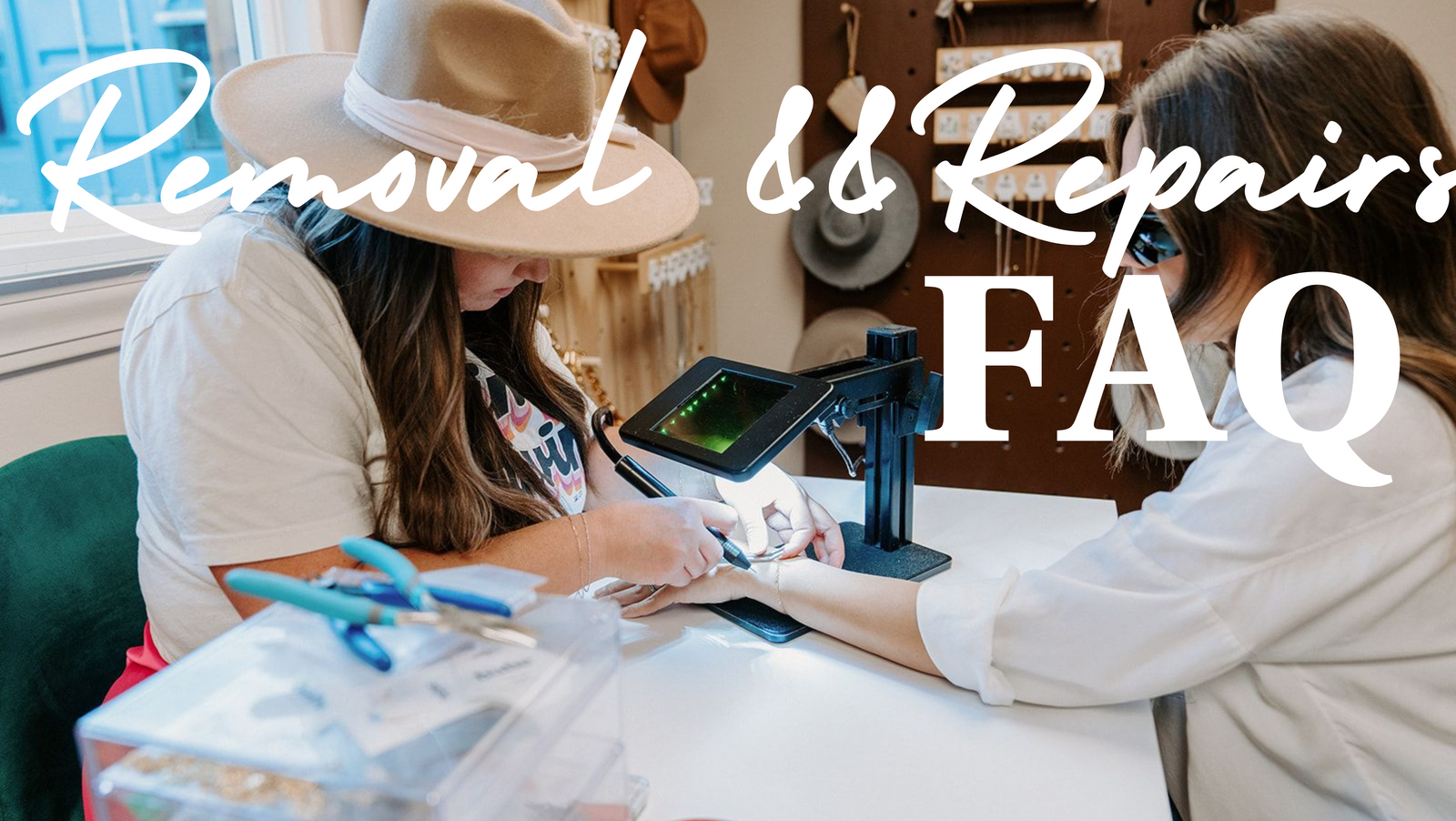 No problem. If you need to remove it for any reason stop back in our store or you can use sharp kitchen scissors or simple wire cutters to do this at home. Find the link we used to close and use your scissors on that gap we welded shut. Keep your chain in a safe place so we can reattach it when you're ready!! Have an upcoming sports season? Many of our customers tuck their chains into sweat bands or their socks during games with no issue.
I'm so sorry to hear you've decided permanent jewelry does not fit your lifestyle but all sales are final. We are happy to add a clasp for you so you can keep your high quality bracelet. Please use the form below to request this.
All sales are final on permanent jewelry. We will happily repair the piece for you at no cost If you are local to our shop come in anytime convenient for you and we can repair it. If you are not local you can ship it to us and we will add a clasp and send it back until you are able to make it back to us.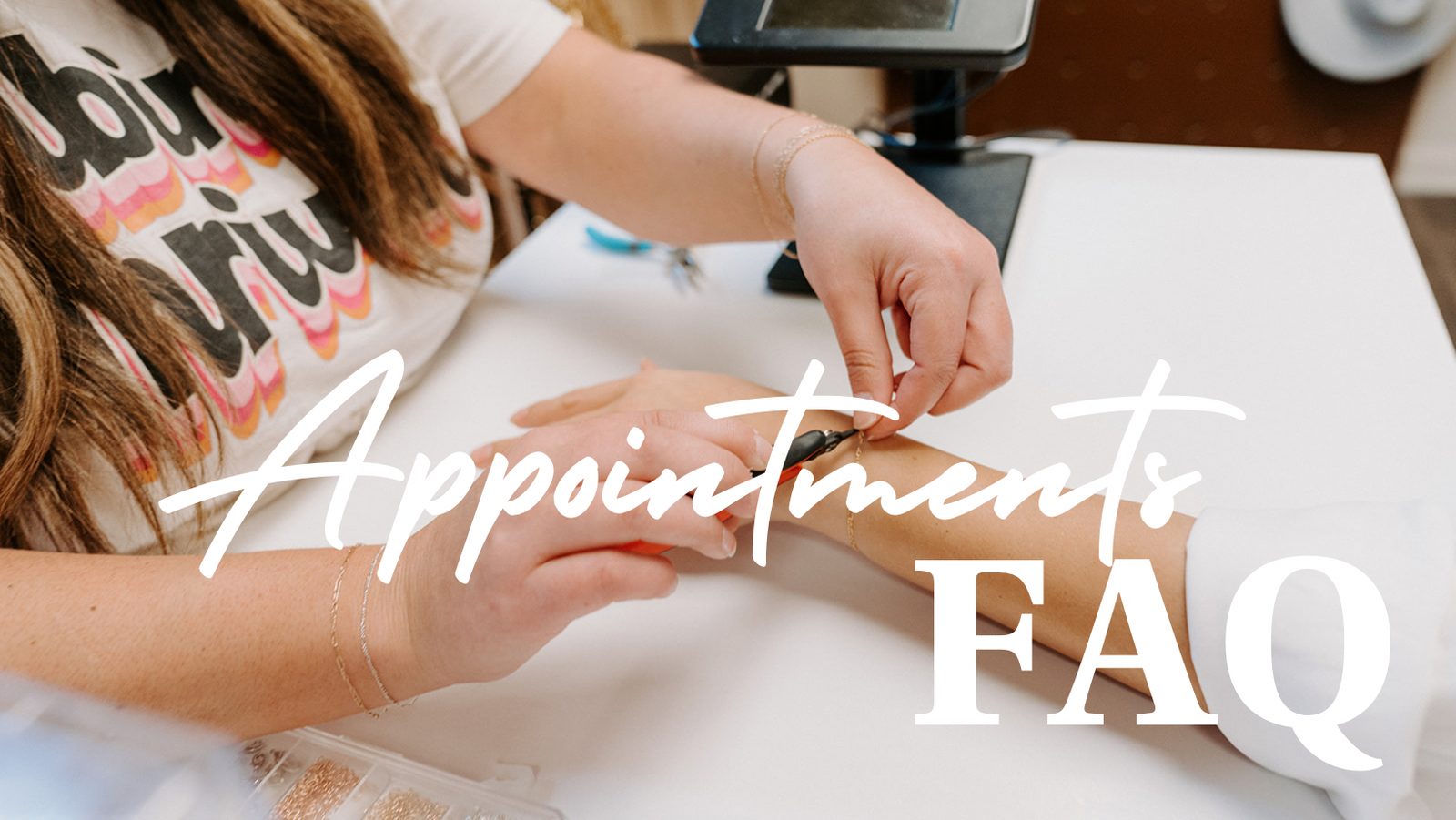 No! You can stop into our shop location during our open hours. If the staff member/s working are trained & we have availability they'll be happy to take you on a walk in basis. Appointments will take priority. We suggest checking our social media the morning you hope to walk in, or shoot us a DM and we can confirm our availability for you.
Right here!! Use the calendar below to request an appointment at our Kansas City shop- located in The Iron District in North Kansas City, MO. We are less than 10 minutes out of downtown Kansas City. We request a $30 non-refundable & non-transferable deposit to hold your appointment. This will apply to your permanent piece of choice. If you need to reschedule please use the link in your confirmation email. We are unable to edit your appointment on your behalf.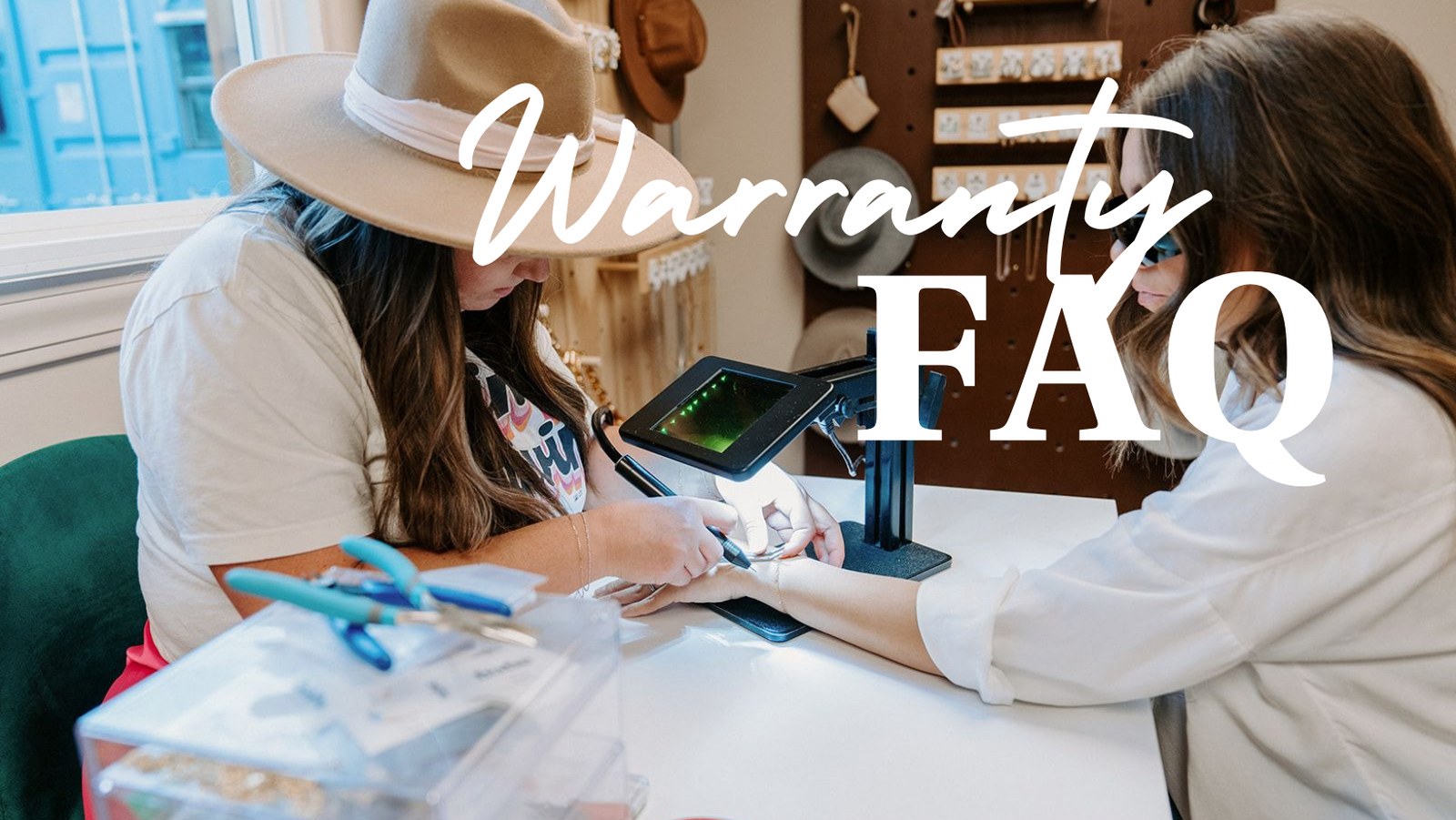 If your piece ever breaks we will repair it for no cost. If you are local to our shop come in anytime convenient for you and we can repair it. If you are not local you can ship it to us and we will add a clasp and send it back until you are able to make it back to us, or a local jewelry artist
🗓 Within 30 days we will replace the piece with the same chain, or a chain of the same price at no charge, or offer a 50% refund when you return the chain to us (Customer is responsible for shipping)

🗓 30-90 days we will replace the piece at 50% off or offer a 20% refund when you return the chain to us (Customer is responsible for shipping)

🗓 Beyond 90 days the customer is responsible for replacement, and no refunds are offered.  
- Lost Chain -
To be eligible for a lost chain warranty, the exact same chain must be used and welded to the same part (ie bracelet, anklet etc)
🗓 Within 7 days, we will replace the chain at 100% off, free of charge. 
🗓 8-90 days we will replace the piece at 50% off
🗓 90+ days we will replace the chain at 20% off.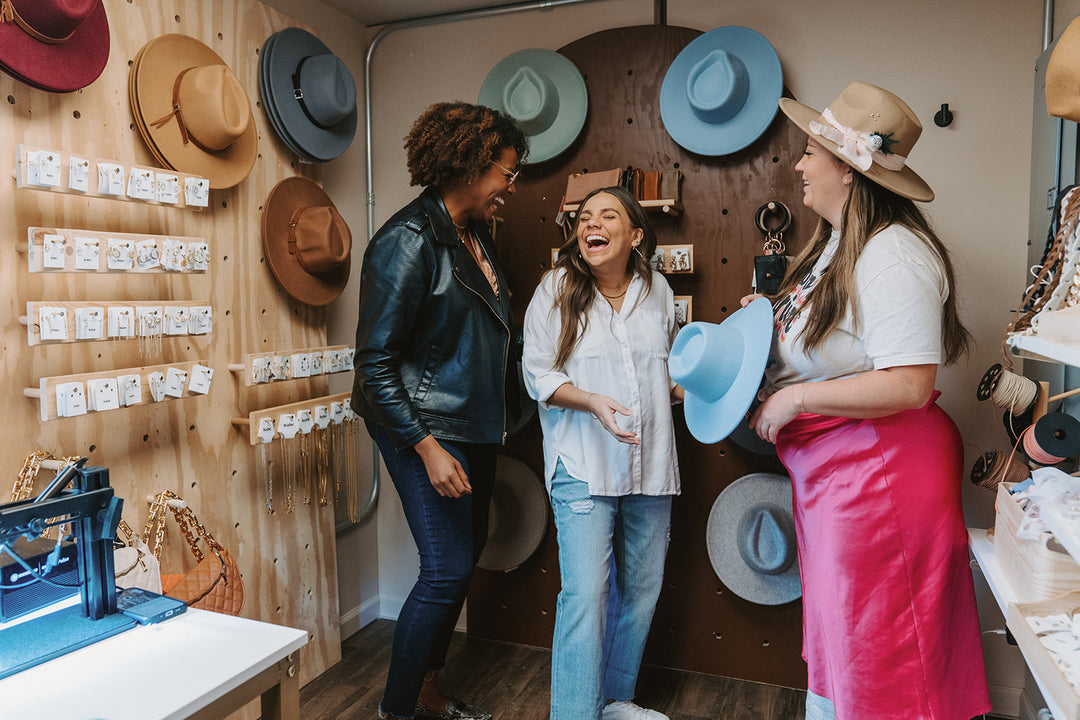 Still have questions? Want to book a large party?
Use the form below to contact us directly, or shoot us a DM on Instagram.